Artistic Associate Sean Patrick Nill interviews the stars of the world premiere production of The Forever Question to discuss  the process of performing new works.
How many new plays have you done at the B Street Theatre? 
Peter: Oh gosh…three or four…
Dana: Oh yeah… some of Buck's holiday shows. I don't even know.
(They all laugh)
What's it like being an actor in a new play? 
Peter: One of the good things is you get to be first. You're not competing with any previous versions. You're the first one making choices with this story. The converse side of that is you're getting rewrites up until the very last minute. That makes it more challenging. It's wonderful and difficult at the same time.
Dana: I would agree. I really enjoy the development process.  You're a part of the team that makes the script stronger. You watch it happen, and you feel it happen. That part is really exciting. It's a lot of work, but it's worth it.
Peter: And all three of us (Peter, Dana, and director Lyndsay Burch) are all writers, so we're all big fans of story, which make this whole experience much more of a collaboration.
Why is The Forever Question a fresh new story for the American theatre? 
Peter: It's the scope. We literally go from birth to death. One of the things Jim does really well, besides having a gift for dialogue, is he really captures the universal themes of a story. The patrons who have seen the show have told us that they have all been reminded of their own personal stories from seeing this one.
Dana: There's something for all generations. We play children, parents, grandparents, wives husbands; there are aspects of these relationships that we all can relate to.
What has it been like to work with playwright Jim Christy? 
Dana: Great!
Peter: He's a great guy. He's a gamer.
Dana: He's down for whatever. He wants to try it all. But he also has a strong sense of his material. He understands why some things need changes, and some things don't.
Peter: You can get a lot of writers that can be wishy-washy in this process, but Jim knows what he wants.
The director of this play, Lyndsay Burch, has directed multiple world premieres. What is it about her that makes her such a great director of new works? 
Dana: She likes to work. That is major. She likes breaking down the script, she likes solving problems, she likes moving things along. These aspects are all helpful when developing something new in a short amount of time.
Peter: She has great instincts. She has great story telling instincts, timing instincts, pacing instincts, and she also appreciates actors. She knows us well enough not to micro-manage us and allows us the freedom to bring in strong choices and play. She trusts us, and that's special.
Dana: That's so important. When creating new works, if you can get a good team together, it makes everything better. She has a knack for bringing good teams together. She knows what she wants, and she knows how to get it. Plus, she's fun. We are having such a great time. If we were this exhausted, and not having a good time…
Peter: I can't even imagine what would be going on right now.
Dana: Her sense of play…
Peter: It's crucial.
The opening of The Forever Question is kind of the ending of B Street's inaugural New Comedies Festival. Why is the New Comedies Festival important for the American theatre? 
Peter: It's a simple answer. There aren't enough comedies coming out in the American canon currently. I think it's remarkable that B Street Theatre chose to do this, and I think it will put us on the map.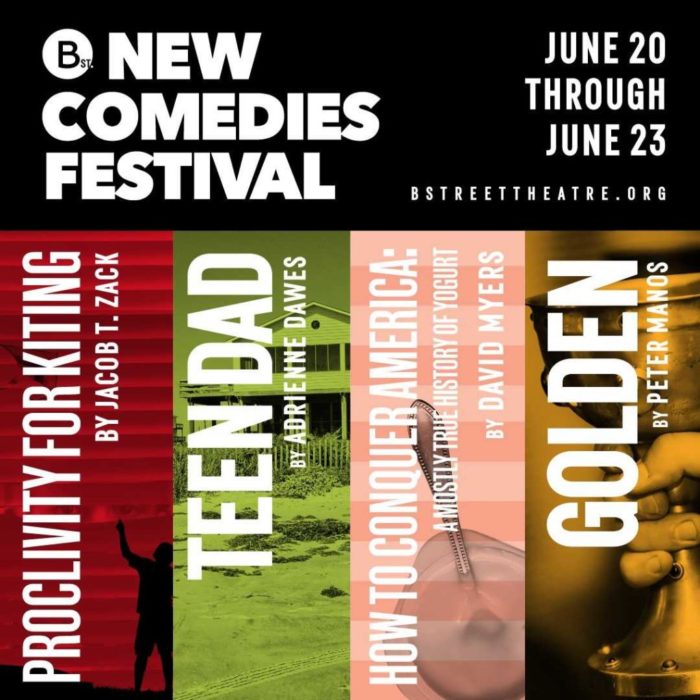 The Forever Question continues its run until July 14. Get your tickets now and come see the winner of B Street Theatre's inaugural New Comedies Festival. Also, a reminder that the 2019 New Comedies Festival will begin next week June 20. Get your tickets and see the candidates for next year's world premiere production.