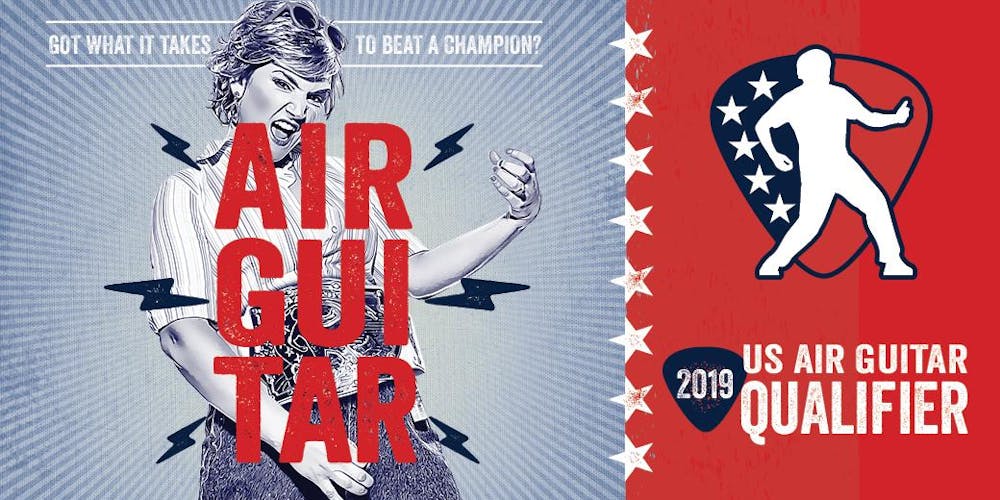 After the massive success of both Airness and the Sacramento Air Guitar Qualifier last year, The Sofia is once again hosting this awesome event June 8 at 9:30pm in Upstairs at the B. Artistic Associate Sean Patrick Nill interviewed reining Sacramento Air Guitar Champion KitKat, who placed fifth overall in the World Air Guitar Championship. He also interviewed the founder of Sacramento Air Guitar, Sweetness and Rockus Aireleous to talk about last year's show, this year's show and the massive appeal of Air Guitar.
 Last year was the first year The Sofia hosted the Sacramento Air Guitar Qualifier. How was last year's show?
KitKat: Last year's show was a huge success. Sweetness and Rockus opened the show with a bang and former US Air Guitar Champion, Lt. Facemelter, gave us an amazing halftime show featuring a routine he took all the way to the World Championships. Last year's competitors really stepped up the air guitar game with elaborate costume reveals and rockstar level stage presences.
Sweetness: Our first show at The Sofia was a huge success. A sold out show, 15 competitors and a national champion cameo all rounded out our most successful show ever. KitKat and I went on to represent Sacramento at the US Air Guitar Nationals in Brooklyn, NY.
Rockus: Working with The Sofia was an incredible experience and definitely the biggest Air Guitar Championship that Sacramento has ever seen. A third of the competitors were performing for the first time and we drew a much wider audience of people that had never seen a "real" Air Guitar Competition before. The night ended with our first "Air-Off," a tie after the first two rounds between KitKat and Androgynous Sleazebucket (local performer Andrea Starlite) determined by an improvised air guitar duel. Both put on an incredible punk rock performance, and in the end KitKat won for the second year in a row and went all the way to the World Championship.
Kat and Kyle, you went on to compete in the 2018 International Competition in Finland. What was that like and how did you do?
KitKat: Competing in Oulu, Finland was surreal. We were treated like rockstars with a huge outdoor stage, programmed lighting effects, and professional photographers. We connected with amazing air guitarists from all over the world (we're still on the group chat and it is FIRE). I won first place at the Darkhorse Competition which got me a spot in the Air Guitar World Championships where I took fifth place overall.
Sweetness: The Air Guitar World Championships really made the competitors feel like rockstars. From the moment we were met at the airport to the moment we left, the organizers really made us feel larger than life. I unfortunately did not qualify at Darkhorse to continue on to the World stage. But I got a front row seat to watch KitKat kick ass and represent Sacramento.
What can we expect for this year's show? For those who weren't there last year, what's a Air Guitar Show like?
KitKat: This year's show is anyone's game! I won't be competing so my title of Sac Air Guitar Champ is up for grabs! An Air Guitar Show is part rock show, part comedy act, and part spectacle. So newcomers should expect plenty of glitter, spandex, and rock & roll.
Sweetness: If you like to party and have a good time, air guitar is for you. This year's show is gonna be exactly that. Bring your friends, grab a few drinks from the bar and get ready to cheer on the best air guitarist in Sacramento.
Rockus: This year marks our fifth Sacramento Air Guitar Championship and we couldn't be more excited to bring it back to The Sofia. This year is going to bring more returning acts that get better each year, new talent, judges and surprise performances with guests traveling from as far as LA and San Francisco. And KitKat as a new host! But most of all, it's going to be a fun evening rocking out together and sharing an art form that anyone can appreciate and join in on.
What makes a good air guitarist?
KitKat: Competitors are judged on technical merit (does it look like they're playing a real guitar?), stage presence (is the audience in the palm of their hand?), and AIRNESS (do they have that extra quality that elevates their performance? That 'je ne sais quoi?' factor.). But the number one thing that an air guitarist requires is a willingness to make a complete ass of yourself in front of a large group of people.
Sweetness: A minimum of 3 drinks and a complete lack of shame in the name of fun. If you look like your having the time of your life, no matter the score, you've got a good air guitarist.
Why is The Sofia a great venue for this event?
KitKat: The Sofia put on the show Airness by Chelsea Marcantel last summer – which is an amazing show about the life of air guitarists on their way to the US Air Guitar National Championships. So The Sofia has a deep understanding and appreciation of what air guitar is.
Sweetness: Rockus and I had been running the Sacramento AG chapter for almost five years now. By far, no other venue or artistic producer has been as fully committed to the success of our show. From sound, to lighting, to organization, The Sofia team's production quality is on another level. The Sofia is almost too good for our show. Air Guitar shows are usually on a week night in a tiny dive bar, which are still amazing, but when you get on that stage in front of hundreds of screaming fans, you legitimately feel like you are a rockstar!
Rockus: The Sofia community and production quality make hosting the show at Upstairs at the B special. We reach a crowd of all different ages and interests that we weren't exposed to before, and getting to know The Sofia staff and actors and getting them involved has been a blast. The incredible staff and interns have added a new level of production value to lighting, sound and the whole experience, elevating the show beyond what we thought was possible.
What can we expect from Sac Air Guitar in the future?
Sweetness: More Sex, Hugs & Rock n' Roll.
Rockus: #SacAirGuitar Field trip to Nashville? Finland?